Hi my loves! Today I decided to talk about two products that I own, that are also so popular among the beauty community. The Beauty Blender has been a revolutionary make-up tool that has changed the way make-up lovers apply their make-up forever. However, is it really worth spending $20 on this sponge or are there dupes out there that are good enough? The original Beauty Blender claims that it is the only product out there that is able to let product settle on the sponge for application without absorbing it. I decided to try out the Beauty Blender against some of the other beauty sponges out there to see which one is really better.
The Original Beauty Blender
Application: 9/10
Honestly, I love the application of the Beauty Blender. It gives me the best build-able coverage that isn't streaky or cakey. There are a few brushes that I also use interchangeably with the Beauty Blender which is why I didn't give it a 10/10 and I find that $20 is a little steep for a sponge. However, it absorbs water without absorbing product and it stays damp and workable even after you washed it a day previously! It's a truly high quality product, but again, the price is "meh", which is why I was on the hunt to hopefully find something cheaper!
Real Techniques Miracle Complexion Sponge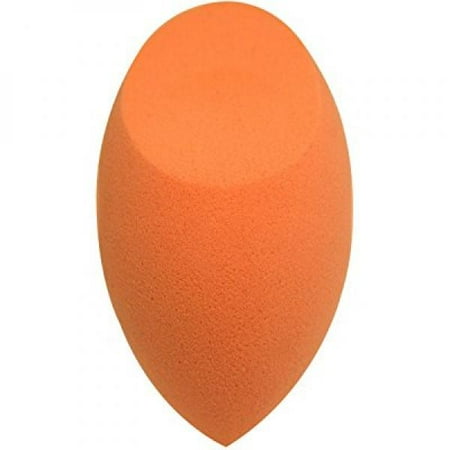 Application: 8.5/10
In my opinion, this is the closest you will get to a Beauty Blender application without having to break the bank. The Real Techniques sponge retails for $7.22 at drugstores, Walmart, and Target. I love the shape of this sponge because it has the flat edge, which makes applying concealer under the eyes much easier because you can get into the nooks and crannies of your eye. However, this sponge is not as plush as the original Beauty Blender which makes it a little tougher to work with, but not by much.
Side Note: I find that the old Real Techniques sponges also have a different consistency than newer ones? I re-purchased a RT sponge recently from Target after my old one was too dirty to salvage and I noticed it's more stiff than before? It could have just been the one that I got but I found that my older one was able to absorb the water better than the newer sponge. Overall, I think this is the best of the best of drugstore sponges though!
EcoTools Ecofoam Facial Sponge Duo
Application: 6/10
Honestly, I wasn't a huge fan of this sponge. The flat end is great for applying large amounts of products but there really is no fine tip that is able to get in the smaller areas of the face. The shape of this beauty sponge is not my favorite and they don't really absorb water too well like the classic Beauty Blender. For about $10, I'd definitely choose the Real Techniques sponge over this one.
Precision Beauty Blending Sponge
Application: 6/10
I pretty much rank this Beauty Sponge with the Eco Tools sponge, nothing too special. This sponge unlike the other ones, has a pear shape which makes the application a little more difficult I feel, than the teardrop shape. It also doesn't retain water too well so I found it to be a little stiff and rough on my skin. This sponge retails for $10 which again, I feel is no competition for the Real Techniques sponge.
Summary
Overall, I feel like the best bet is either the original Beauty Blender or the Real Techniques sponge. If you want a super high quality sponge that can last a while, invest in the Beauty Blender and just bite the bullet like I did. Or, if you're skeptical about the beauty sponge movement, try the Real Techniques sponge first. Either way, I think beauty sponges are a great asset to the beauty community because they really help change the way that make-up can be applied. I had always thought that only brushes could ever work compared to a sponge, but these products have certainly proved me wrong. I hope you found my review helpful and helped guide you to what to spend your money on and what to say PASS! Thanks for reading today's blog post and I hope you're having a happy Sunday. I hope you had a great week and are ready for the next one 🙂
xoxo
Melissa