Hello my loves! Today I'm sharing my Top 5 Nude Lipsticks from the Drugstore with you all. I hope you enjoy the swatches and comment down below if you want me to do more lipstick swatch posts in the future!
Maybeline Color Sensational Lipstick in Totally Toffee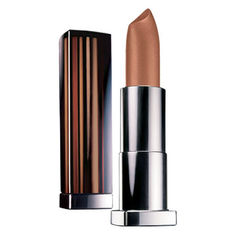 This lipstick has been a staple nude in my collection for years because it's the perfect warm brown for my skin tone. I love how this lipstick is moisturizing and not drying at all and this line itself has so many pigmented shades to choose from. This lipstick has a satin finish and retails for $5.49.
Revlon Lip Butter in Creme Brulee
This lipstick has such a buttery texture which makes the name so fitting! This shade is a little on the light side for my skintone so if you have a medium-deep complexion just note that it might be a little bit on the sheer side. However, it ads the perfect light wash of color for an everyday lipstick and retails for $7.99.
Flower Beauty Velvet Lipcolor in Set Me Freesia
This lipstick is another gorgeous brown-nude color which translates a little dark in the packaging but is actually a true nude color when swatched. The formula is very comfortable on the lips and retails for $4.97.
Elf Cosmetics Lipstick in Nostalgic
I was initially very skeptical about this lipstick because it retails for only $1.00, but I'm so happy that I decided to try it! The formula is not drying at all and the color pay off is amazing for such a low price. I would be wary with throwing this lipstick around in your purse because I have seen reviews that this lipstick is susceptible to breaking easily but with the price how could you go wrong? It's more of a pink-nude than some of the other lipsticks listed so if you're not too enticed with the warmer nude colors, give this one a try!
Rimmel Lasting Finish by Kate Moss in #47
The formula of this lipstick is velvety smooth and I love the mauve-nude tone that it has. If you prefer darker nudes this is the perfect lipstick shade for you because it's neutral but it won't wash you out! This lipstick retails for $5.79.
Here are some swatches of all five of the lipsticks in natural lighting and flash!
Brands from left to right: Rimmel, Maybeline, Revlon, Flower Beauty, Elf
Thank you all for reading today and don't forget to like and comment for more swatch posts!
xoxo
Melissa